holiday tales...
Had a very bad cold with matching fever on christmas eve. Good thing Alaxan is still as reliable as ever, and i got over the bug faster than you can say 'noche buena'. Speaking of which, ours was held at Uncle Sitong's place. The oldies engrossed themselves with their high scores at magic sing, the rugrats entertained themselves ultimate wrestling style, and as for the gen x-ers, we ate to our hearts delight. Ohhh, and the kiat-kiats are so delightfully scrumptious.
christmas creatures. rein and ouie. 12.05
Beb and i found ourselves at Greenhills after hearing christmas day mass. It's so eerie to have tons of parking slot choices when you're used to spending hours trying to fight over one with a half dozen other waiting cars. Only a handful of establishments are open that night, and luckily burgoo was one of them. Got my usual meat fix. Haay, it will take me forever to shed these holiday pounds.
mushroom burgoo (",) 12.05
I think all of manila had the same idea of spending the day after christmas (holiday economics courtesy of the Arrovo... errr... Arroyo administration) at Enchanted Kingdom. So reminiscent of Ateneo registration day, lines take hours for a five minute ride. With absolutely no patience nor, lower body strength whatsoever, yes, ladies and gentlemen, i just ate. Queueing up for mango crepe is much more fun than getting headache from the space shuttle. The rides are so overrated anyway. Hahaha. Food courts rule!.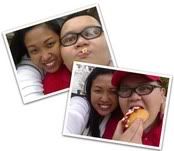 rather eat than queue. ek. 12.05