generations.
Macy, my cousin's (Ate Madel) daughter, celebrated her first birthday today. So we went to the far land of Novaliches to attend the kid's shindig. She had guests who are a few years ahead of her entertained by a couple of clowns. Creepy clowns. I hate clowns.
And oh, the baby. Paeonia Macy. She's as cute as a button. She's so fragile im afraid to carry her coz i might break her. And she's not used to so many people, so she felt like crying the entire time. That severely decreses by baby handling capabilities, so i had to pass.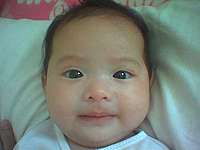 happy birthday,Macy! 03.27


Another reason for tolerating the long drive to what seems to be the outskirts of NCR was to see my Uncle Mario, the celebrant's lolo. It was also his Thanksgiving party, continously recovering from a very concerning stroke, something which is not an alien illness to my family. Most of my family members who have long been gone have passed away due to stroke, mainly attributed to our love of food. In my papa's words to uncle, "Sinisingil na tayo sa pagpapasarap natin." Still under therapy, Uncle Mario depends on his feeding tube, and had just regained his speaking voice so it is one steady uphill climb. As i entered his room, which was then filled with relatives from our side of the family, his blood pressure was being monitored by Ate Beth, my cousin/doctor. Apparently, within a few moments it spiked up. The excitement of seeing people he wasn't expecting to come (especially considering it was practically the province!) caused it to rise above normal. Relex uncle, we came here to see you well, not make you more ill. Haay, I sure hope to God he gets well soon. Just lost an uncle a little over a year ago, and i don't want another to go. His family needs him. Kaya pa yan, Uncle noh?