Shinong Lasheng?
After JC, GM, SMB and a few other acronyms we've grown to love, I know my friends are drunk when:
1. Goodbyes get confusing.
Ekang and Sweety: Yeng, uwi na kami. May gagawin pa ko bukas.
Yeng, di daw lasing: Hello! *waves cheerfully*
2. Texting becomes a problem.
Maebz, the morning after: "Ano intindi mo dito?"
3. They develop short term memory loss.
Maebz, coming down from yeng's room: "Shiyet! Paano ako nakaakyat? Bakit ganito na damit ko?"
4. They start being jealous of inanimate objects.
Deb, upon hearing Noel Cabangon's Kanlungan: "Gusto ko tong kanta to! Jek, lika dito sayaw mo ko.
Jek, along with the boys, are fixing our mess. Jek was quietly sweeping and sheepishly laughing at the noisy girls.
Deb: Ano ka ba? Matatapos na yung kanta. Ba't mo ko pinagpapalit sa walis?!?
5.
Nagging
Redundancy is apparent.
Yeng, take four: Dale, Na lock mo na ba yung pinto? Eh yung sa fourth floor naka lock na ba? Yung Gate may lock na?
Dale, helpless: Yeng, unang beses pa lang na sinabi mo yun nagawa ko na.
Yeng, pauses, thinks about it for a while: .... Eh yung gate na lock mo na? Yung pinto? Yung fourth floor?
6. They're sweating it off.
Please choose from the following activities accordingly.
a. Dance with the electric fan.
b. Wash the dishes.
c. Wipe the floor.
d. Mop the bathroom.
e. If there is laundry, volunteer to wash it.
7. They put poor shocked hostages / boyfriends on hot seats.
Interrogator: So anong plano mo sa buhay? May papakain ka na ba sa kabarkada namin.
Boyfriend, nearly peeing in his pants: "Um, uh, di ba matagal pa yun? *Calls out for his girlfriend who's also drunk and couldn't care less*
8. They talk it off.
Dale, 200 decibels higher than his usual voice: ANO BA? ANG IINGAY NYO! GANYAN BA KAYO PAG NALALASING?" Pati sa binilhan namin ng beer naririnig namin kayo!
9. They disappear one by one, later found in a corner soundly sleeping like an angel (of death hehehe)
10. In the morning, they barely remember the night before, but still find the bits and pieces very hilarious.
Classic!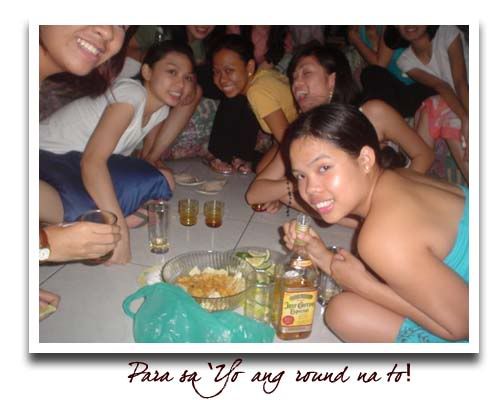 The night is young... and so are we...