Ensay - what?!?
Thursdays are slow days at the shop so i wasn't expecting anything core-shaking to happen today.
That was until i arrived at my desk and saw this....
Hallelujah!
Carbs. Carbs. Carbs. Oral Fixation. Carbs. Cheese. Eggs. Carbs.
Oh my gawd!
It's massive. You could feed a whole barangay it. If God had this when He was multiplying bread, He wouldn't break a sweat (He didn't naman pero you get my drift). It's huge! It's like this big...
lost my face, plus my neck!
I am intimidated by the bread. My plan is to tackle it by bits and pieces until i finish it all, probably til Monday. No, call me selfish, but i am not planning to share. I'll just lug it around in my purse until the last glorious bite. Then i realized....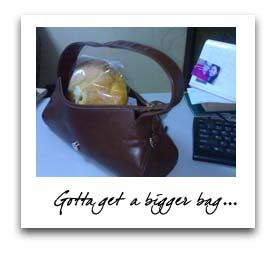 Paano na to?
Damn, this is one slow day...